Posted by Vanessa Pierce on Aug 3rd 2018
We throw on our waders, set up our rods, and head toward the river to play what Western Rivers Flyfisher calls, "The Game." It begins at the Legacy Bridge in Midway, UT, on the Middle Provo. It's a perfect overcast day for trout hunting. The hatch is on. Little midges smaller than our smallest fly — thousands and thousands of them — hover along the surface.
I'm following Kigen, 33, a guide and employee at WRFF, along the riverbed. They call him "Doc." He has a PhD in molecular biology, specializing in venomous snails. But it was fly fishing that got him hooked. In college, his buddies set him up one day with a rod on the Middle. For hours, he kept snagging something. He got excited thinking it was a fish, but alas, it was a rock. Nonetheless, he put aside his venomous snail lab coat and made waders his daily outfit of choice.
Then there's Bryce, 31. He grew up spin fishing in Midway. At the mature age of 8, his dad set him up with fly gear. Fly fishing didn't "get him" until he found himself at a job in his early 20s where he had to wear a tie. One day, he just left and went fly fishing. He moved to Colorado to become a fly guide, but couldn't stay away from Utah. WRFF founder Steve Schmidt hired him, and he's been working there ever since — 10 years now.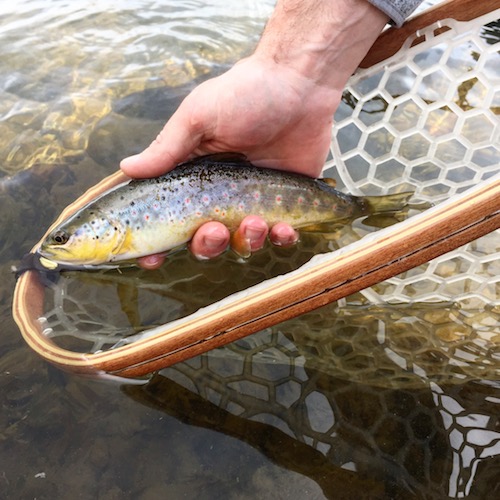 We walk along the river. Kigen and Bryce are observing everything. Bryce hears a bird and starts talking about it — he's a chuckar partridge hunter when he's not fishing. Kigen sees some blue wing olives. "Did that come off the bush," he asks Bryce. I asked Bryce why Kigen asked. He said that the mating bugs come off brush along the river and then lay their eggs on the water and die, hence the "spinner" bug you hear about. If it was a spinner, that would require a different fly than, say, an emerging BWO.
We've been out there for 30 minutes at this point, just observing and waiting for the rise. That's part of The Game. Kigen and Bryce don't just fish, they hunt. Finding that one rising fish when everyone thinks nymphing is the trick, is why they fish. Kigen even goes further, saying that watching a fish rise, honing in on it, and making one perfect cast to land him is the goal.
Since we see some spinners, Bryce and I stop to cast some soft hackle. But Kigen goes off to find that fish, the one he might just hunt all day. We pull out the line and start walking along the river to check out a riser Kigen just found.
"Found a gamer, Kigen?" Bryce asks.
"What's that?" I ask.
"One willing to play," he says with a grin. "I found one for you, Kigen, saw it rising twice now."
Kigen slowly tip toes out into the river. This fish is being elusive. He has to try a couple flies before he lands him.
"Fishing's fun whichever way you do it. We just enjoy this way," he says about The Game.
For the next two hours, the guys help me catch the fish I want. We stalked, learned their ways, observed their rise and casted. I landed one, lost one, and got plenty skunked in those two hours.
After a while casting fly after fly into a pool of risers, I got disheartened. The sun came out and those pesky, picky Middle Provo fish wouldn't have it.
"It's time to hit pause on the game, we'll get them next time," Bryce says.
The Game is all about "enjoying the whole process leading up to that fish," Bryce reminds me.
I agree.