Posted by Logan Griffith on Aug 30th 2018
Belize isn't a large country, with only 240 miles of coastline just south of Mexico on the Yucatan Peninsula, but is home to the second largest barrier reef in the world as well as seemingly endless white sand flats and intricate mangrove bays and lagoons. These areas provide habitat for bonefish, permit, and both resident and migratory tarpon. It's home also to barracuda, needlefish and an array of other species you don't really want to catch, but can't resist casting to. The main trifecta of game-fish are all protected catch and release species; making Belize a primo destination for grand-slam potential.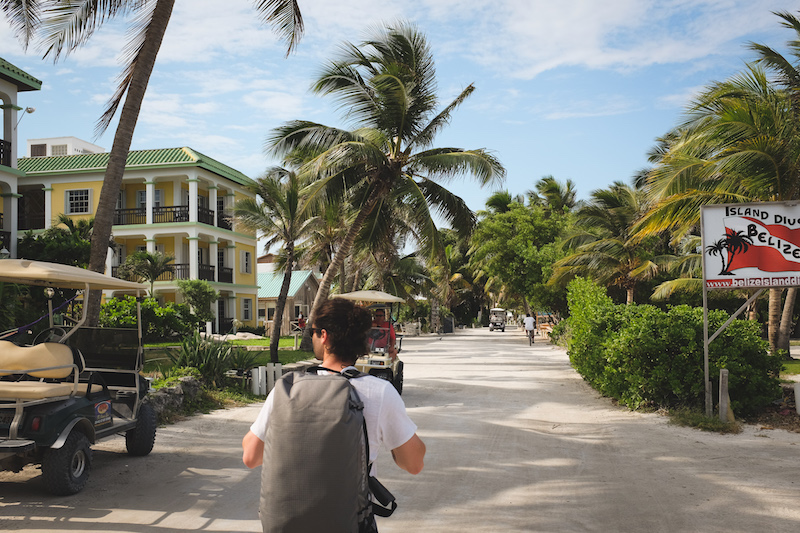 Until this, I've been a true trout weenie. Most of my savings (or lack thereof) typically go into the gas tank for weekend migrations to the Henry's Fork and Green River chasing snotty, dry-fly sipping trout, so I hadn't put much thought towards the salt. That is, until my cohort Andrew stormed into the shop one random afternoon raving about cheap plane tickets. After a day or two of arm-twisting, research, and fish-porn we were booked and planning out a week of flats fishing based out of Ambergris Caye, Belize.
It can be an easy trip, though we sacrificed simplicity to save money on tickets. An itinerary rich with connections and red-eye flights put us down early morning in Belize City, where we hopped in a cab to the marina and on a water taxi to Ambergris Caye. We settled in to our digs in San Pedro, rented ourselves a golf cart for transport and were off canvassing the island. Before we knew it, we were swimming in Belikins' (local beer of choice) and grubbing on jerk chicken. One last drink before bed diluted my concern that I wouldn't be able to sleep. It was a nervousness that threatened insomnia, like the following morning is the first day of school…though I'm actually excited.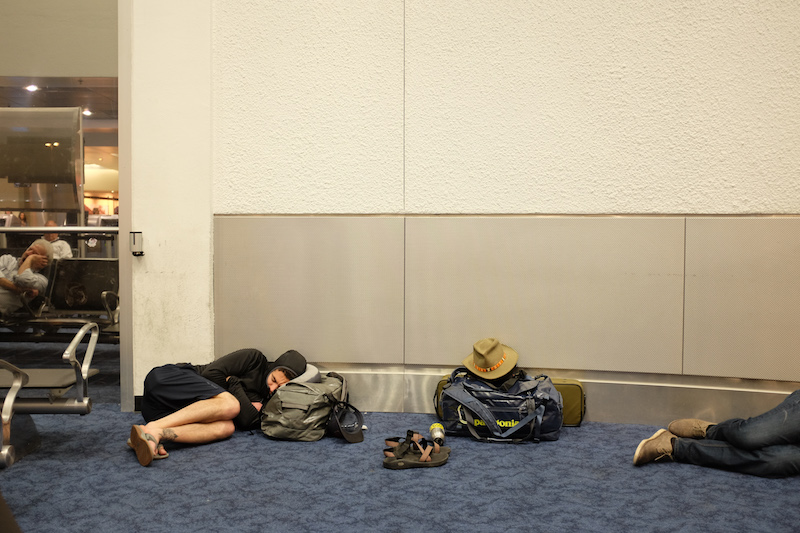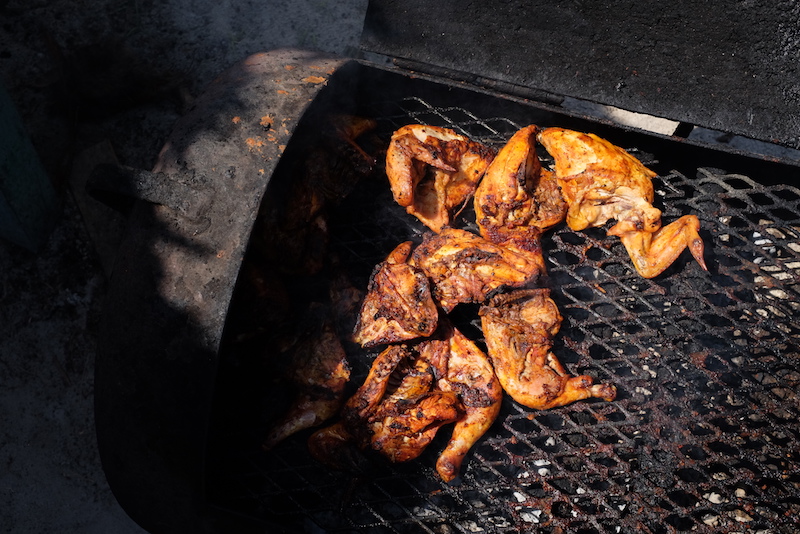 Day 1
We spent a full day yesterday on foot exploring some local flats, DIY style. We were hyped to have discovered what the hell a bonefish looks like, but we're ready to get on a boat. We're up early tying leaders, corralling flies and putting together the myriad of rods we're hoping to need, as it's more likely today we'll have shots at the other species. Golf-cart gets loaded up under the first rays of morning light and we're off on the short drive to the lodge. Initially, we miss our turn. El Pescador is nestled in the trees off the main road and indicated only by a small hand-painted sign. It's as if they intend to remain hidden.
We stroll in to the main courtyard at 6:45am on the mark, and are greeted and kindly asked if we've had breakfast. We haven't eaten so we're offered, but also kind of told, to sit down and grab some food. Now I'm not much of a breakfast person but after a few evening drinks and an afternoon spent at the free-clinic (perhaps a story for another time…) it's damn near impossible to pass up. Down here in the tropics, meals like this go a long way. We feed on fresh fruit, omelets, johnny-cakes, toast, juice and most importantly a few cups of coffee. Okay, now we're ready.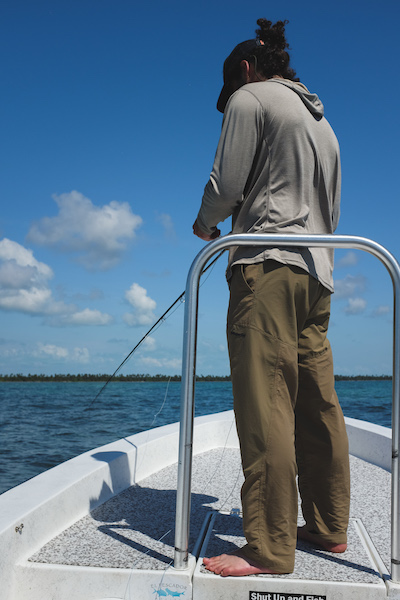 Junior will be our guide today. I know nothing about him but his name, after being passed around Western Rivers in stories of trips passed. We talk plans before he picks through my boxes of flies. Bonefish and Permit: check. White tarpon toads? How have I not tied up any white tarpon toads? We grab a few from the shop along with our licenses. Junior's boat is ready, and the last still tied to the dock. I sense some dissatisfaction with our slow morning. First thing first, we're going to milk what's left of our morning looking for tarpon. Junior mentions something about having already done a few fish by this time yesterday… Okay, okay we get it.
We take a short boat ride north and anchor not far off the beach. We're going to hang here, and I'm first on deck. The water is a brackish brown color from the Sargasso (an invasive aquatic weed) so we're looking for actively rolling fish (a method by which the tarpon break the surface and literally take a breath to supplement their oxygen intake). We acclimate, get some casting practice and discuss the nature of the fish amongst other "new-to-the-salt" things. A couple of rolls at distance are nothing to celebrate so we're off to the next zone. Another short motor north, we enter Bacalar Chico Marine Preserve andthe scenery has changed dramatically. We anchor up and sit bobbing not far off the reef, surrounded by crystal clear turquoise water in all directions. Andrew steps up and not long after, Junior calls out a school of fish. There are 4-6 targets at about 100 ft. and heading straight at us. Their long chrome silver bodies appear black in the expanse of blue. Good god, I'm thinking, you could see them from outer space. Andrew doesn't lock on as they make their way in close and right up along side the boat before disappearing. These were the "high and happy" fish Junior was just telling us about. Apparently they're the ones that will eat anything. I believe him, but we're moving on.
Junior cuts his boat in to a small gap in the mangroves; a route that much like the lodge, if one blinks, they may miss it. On one side of us is Mexico, the other, Belize. We cruise through a series of discrete pathways dividing the mangrove forest, before we emerge in a beautiful, isolated lagoon. It's quiet and calm, and the skies blue; a token of beginners' luck. We're warned "the quieter, the better". Maybe it helps with the fishing, maybe he was just sick of our questions and banter. Likely both. The sun is high so we've transitioned our focus to permit and bones. If you've ever read about or chased permit than you know they tend to both appear and vanish within an instant, and though you must never expect, you must always be ready. Herein lies the source of endless headache and heartache amongst saltwater anglers and guides alike.
Belizean bonefish are typically 1-4 lbs., which are an absolute riot on a 6wt, which I'm holding when Junior calls out a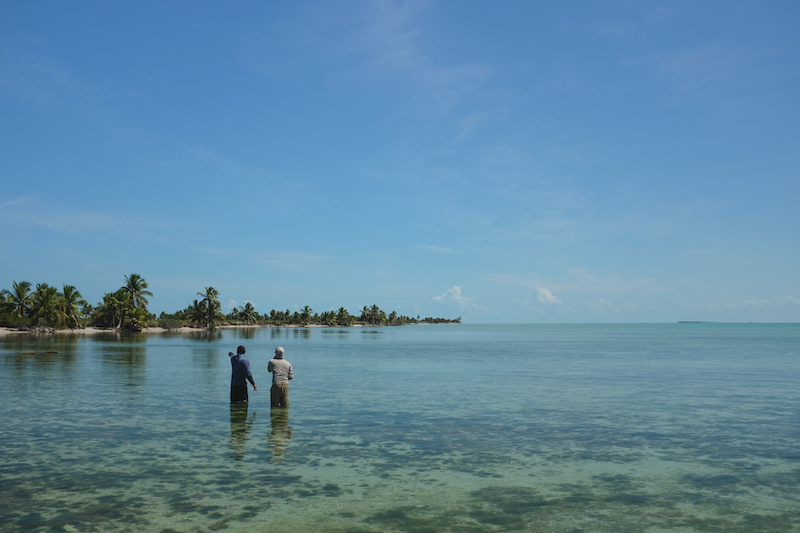 permit: 80 feet, 12 o'clock, coming right at us. Andrew acknowledges the impressive wake that a single cruising fish can push, and passes me the 9wt to my left as I hand him back the 6wt to my right. His job is done. "Don't blow this, you can't blow this" is the only thought I can muster. Junior is already on me; "Cast! Why aren't you casting?!" As I rip line off the reel and pull my #6 Squimp from it's resting place, you guessed it, I blow it. My line has twisted around my rod about 10 times and before my fly hits the water, it's already over. As if I even needed to hear it, I'm informed that it's gone. Long gone. I was ready, though not ready enough, and again, I'm "gently" informed of it . I was hopeful, though I can't say I expected this moment to go much better. The boat has regressed to a whole other level of quiet. The overwhelming feeling of loss is not because this is likely the only permit shot I'll get, but because I let the team down. It's similar to when your mother tells you: "I'm not mad, just disappointed..." Somehow, that's so much worse.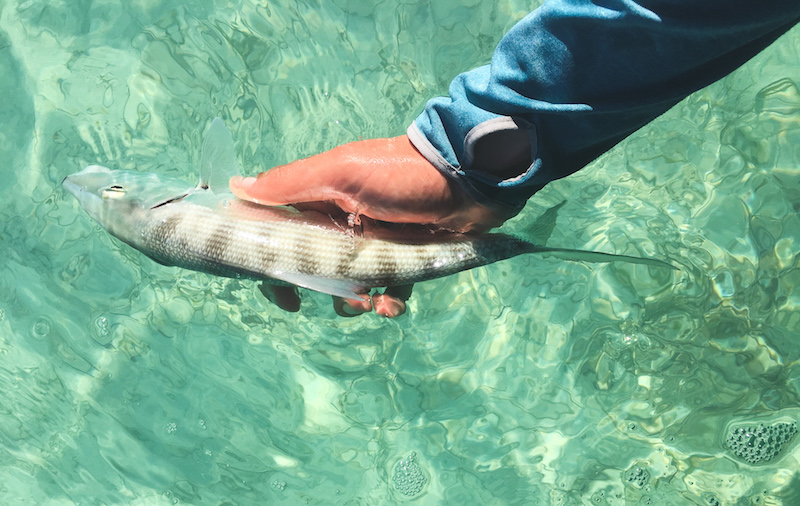 Our spirits slowly rebuild as Junior gently poles us out of the lagoon. We fire up and head out to a caye, made famous by it's owner (Leonardo Decaprio) and his grand plan (which has since been squashed) to develop the old military training area in to an "ecotourism" paradise. We spend the remainder of our afternoon on foot, casting to large schools of bones that seem to develop and dissolve repeatedly in front of us. We each feed a few fish, and the morale is resuscitated. We haven't stopped having fun, only now it's slightly more obvious. I'd bet there are some things still in the back of each our minds, but there's no sense worrying about it now. We motor in and decompress. Belikins and rum await. Tomorrow is another day.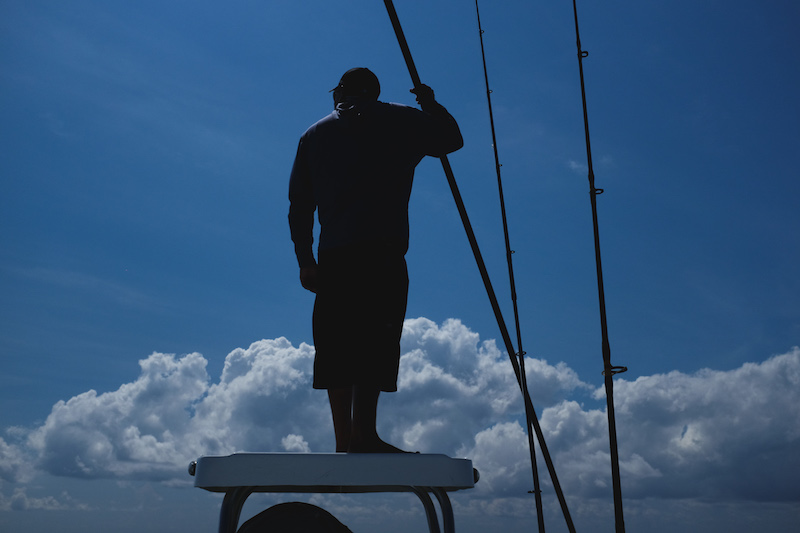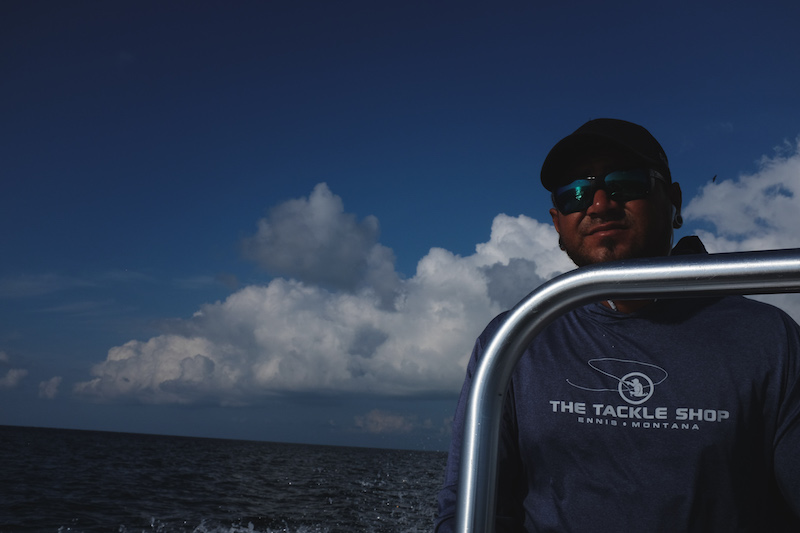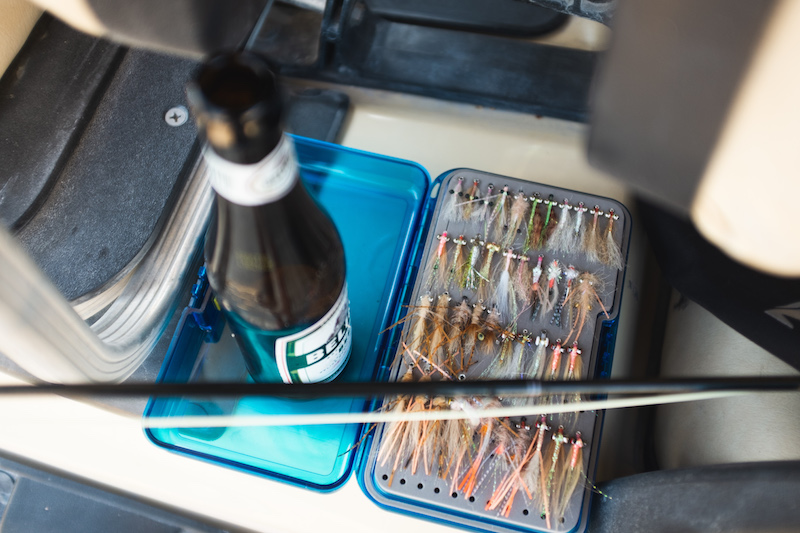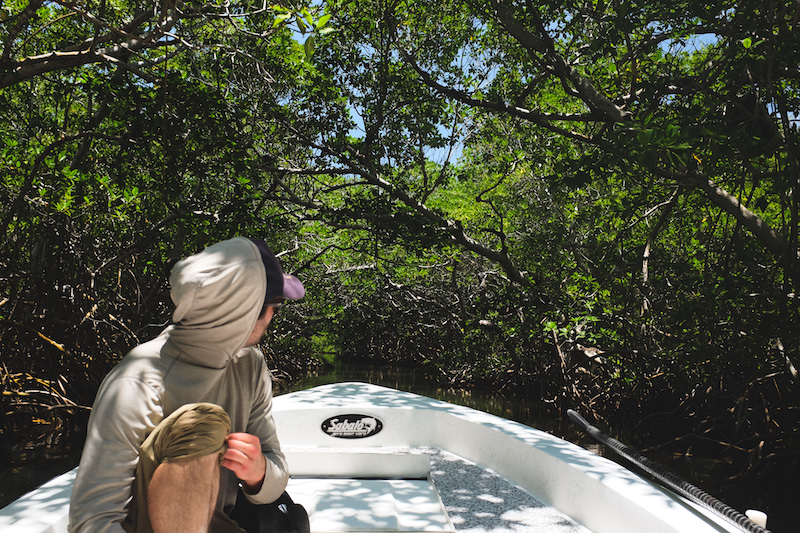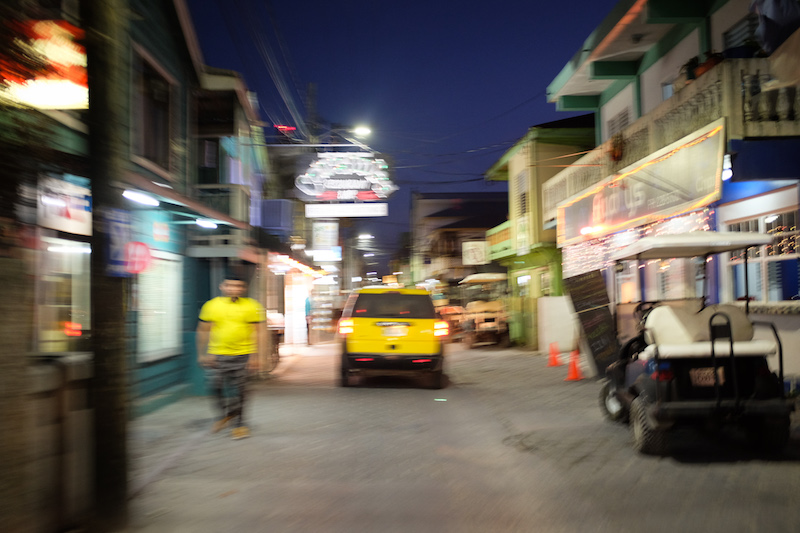 Interested in saltwater fishing? Contact the shop for details on destination travel and hosted trips!
Destination Guided Trips | Ambergris Caye | El Pescador