Posted by Steve Schmidt on Aug 8th 2018
This past Saturday I offered to help the Utah Rivers Council raise awareness on a rapidly progressing proposal to dam Temple Fork; a unique Utah stream that feeds the Logan River. Unless we do something and quickly the dam will be built inundating this unique stream and one of it's tributaries; both vital cold water habitats that will be lost forever. We will also lose one of the states critical Cutthroat fisheries that is home to our states native fish, the Boneville Cutthroat. It's a beautiful stream and it would be a tragedy to see it dammed.
After the morning presentation since I was a third of the way to one of my favorite waters and given the temperatures and polluted smokey air I found it justified a continued road trip for the weekend and pondered heading north to the Henry's Fork.
With thoughts of the Fork running through my head before heading out for the weekend arrived I contacted a friend who I truly learned to fly-fish with, Tom "Scooter Cameron" about a trip he took a few weeks ago to the Henry's Fork; a river the two of us had spent hundreds of days on together. He informed me that the trip never happened. So on a whim I asked him if he'd like to join me for a quick run up there. To my surprise I got a promising "hmmm, and I'll get back to you". Within the hour he text me with a thumbs up.
Prior to opening Western Rivers Flyfisher Scooter and I fished almost every week together, sometimes for weeks at a time on many of the west's noted spring creeks. Marriage, kids and work derailed those trips eventually, to no regrets however. That's just how life is. Although we stayed in touch we failed to get on the water together since I opened the shop in 1986. Now some 30yrs later we were going to get to wet a line on one of our favorite waters again. Needless to say we were both pretty fired up. We only wish it would be for a longer stay.
By the time we got to the river that Saturday evening it felt like we'd never left. Our routine of once finely tuned habits may have been a little rusty to start, but it didn't take long for the flow that we had shared together to fall into place. As we headed down the well worn path that juxtaposed the tall grassy banks of this broad gentle river we hadn't gone far before we stopped to watch a pod of rising fish. What reminiscing we may have been doing quickly ended. It was Game time. While I got focused on what looked like a nice fish, Scooter wandered off to find a sipper of his own.
That night after being treated to an incredible PMD spinner fall we shared a glass of good whiskey around the fire and filled in some blanks about our lives that had transpired since we last shared such an evening. We also talked about how fortunate we were to fish all those years together and how amazing those days were. Days that we didn't exactly take for granted, but didn't realize how good they truly were. It had been a long day, but we still burned some late night oil before throwing our bags out under the stars and calling it a night.
Around a simmering coffee pot the next morning Scooter looked at the weather before we headed out; winds 3mph out of the SW and highs in the 70's under partly cloudy skies.That sounded pretty good for a day where we were hoping to encounter another good spinnerfall, but what we were really hoping for was to find some ants, and Honey Ants to be specific. If you've never fished Honey Ants before their a short lived trout delicacy that produces some rather gluttonous eats. Such an opportunity was one of the motivating factors I was hoping to encounter if all the planets lined up.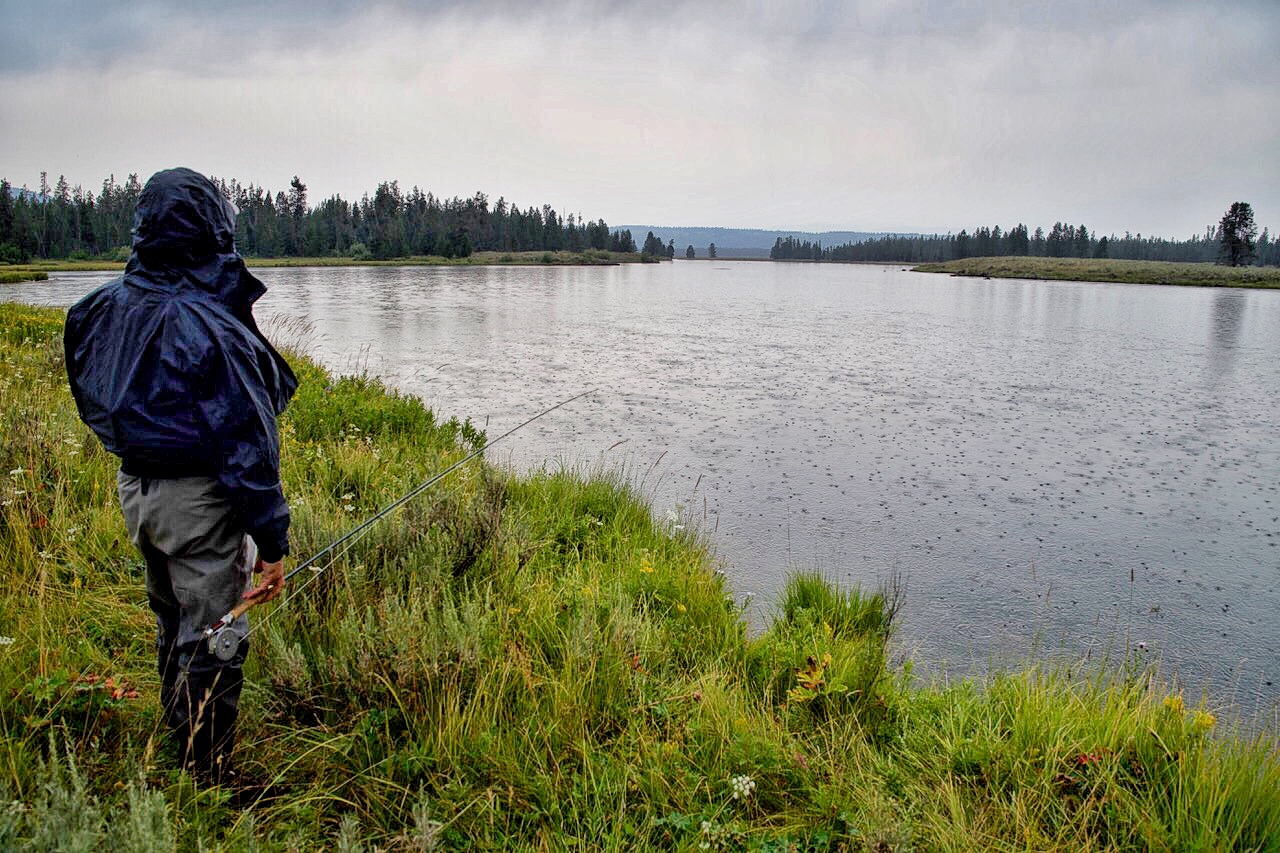 By 8:30 under smokey cloudy skies we headed from the parking lot to the river. To our delight initially we were alone staring at the beautiful scene before us. The windless surface of the river looked like a smooth piece of polished glass. By ten we still stood on the bank waiting for a spinnerfall, yet not much had changed and we were getting a little restless. Tricos began to find there way to the river, yet only the smallest of trout were interested in these tiny mayflies. Soon afterwards thunder echoed across the caldera. We didn't even notice the approaching squall due to the dense smoke from all the fires that were impacting the west. In the distance you could barely make out sheets of rain as the storm honed in on us. By eleven a NE wind ruffed the once still waters with some consistency. From past experiences I new we were in for a long day.
As it began to rain Scooter looked at his weather app again as I prepared to head back to our vehicle to get our raincoats; SW winds 8mph, partly cloudy, 64 degrees, chance of rain 0. I asked him to check what part of the country he was looking at, because that definitely wasn't the weather we were experiencing. We both laughed as we did a lot on that this brief trip. It was what it was.
We got blanked that day as the NE winds continued to blow and wreck havoc with the days hatches. Another squall approached and thunder again echoed across the valley as we began to pack up and head home. Admittedly we were both somewhat disappointed in the outcome of the day, but that did little to overshadow the overall trip experience. Hopefully it will be the beginning of many more days on the water together regardless of the fishing. We'd both like that.
PS:For more information on Temple Fork, visit the Utah Rivers Council website. Better yet, contact your representatives an let them know that you're opposed to the dam: Bear River Development