Posted by Steve Schmidt on Aug 8th 2019
Dear Journal
June 23, 1980 Silver Creek
"Cloudy and very windy. Hopefully the wind will subside in the evening. Good hatch of small Psuedo's coming off. Fished the banks of the "S" turns in the Conservancy. Caught a nice 17" rainbow on a 7X and a Para Psuedo".
-Steve
After fishing Silver Creek near Sun Valley Idaho this May I dug out my old journal and reviewed my notes about previous trips and experiences here. Silver Creek was one of several technical spring creeks that I was fortunate to cut my teeth on in the late 70's and early 80's. To some degree I still do.
For those not familiar with spring creeks, they are some of the most beautiful and challenging waters we fish in the west. Unlike many of our free flowing rivers whose beginnings start high in the Rockies, spring creeks magically percolate up from the ground. Their currents produce some of the west's most prolific and divers hatches. And it's those hatches that create a game that rivals few in all of fly-fishing.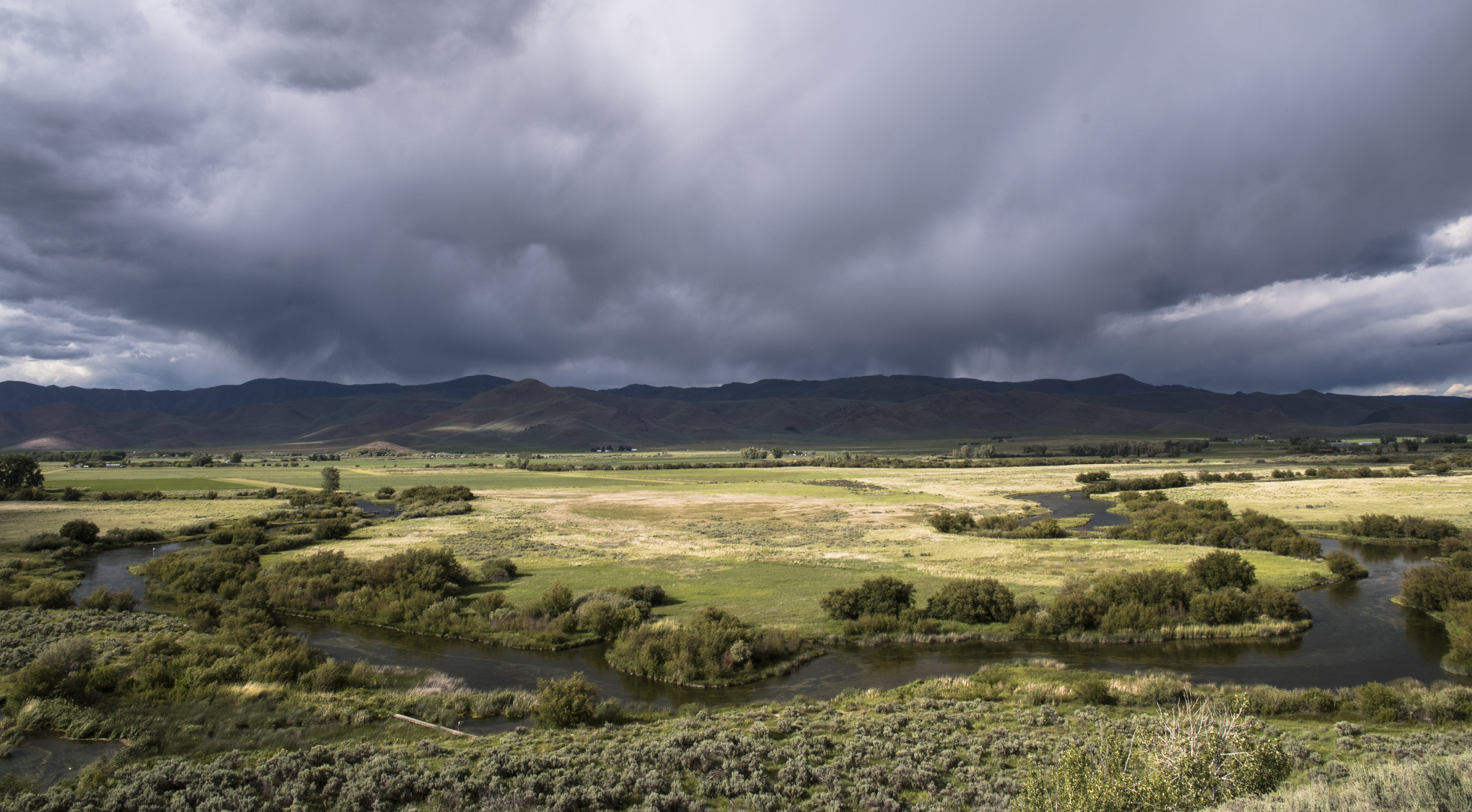 Silver Creek is one such fishery. It's an easy place to get drawn to because of its beauty, its educated fish, scenery and the incredible dry fly fishing opportunities its prolific hatches yield. Those early days there trying to sort out this rendition of the game of fly-fishing taught me a lot. It helped shape the fisherman and philosopher that I am today, but for some reason this noteworthy fishery fell from my radar after I opened Western Rivers in 1986.
It wasn't until I headed to Hailey, Idaho on a work trip that I had my first opportunity to return and fish Silver Creek. It was only for a day and a lot of time had passed since I last fished there. I heard a lot had changed during my absence. Upon arriving into Silver Creeks iconic valley it was readily apparent that it had.
The once lush hillsides surrounding this spring creek bared scars from a decade long drought, their flanks parched and brown. By the time we crossed Kilpatrick Bridge when I got my first view of Silver Creek, the impact seemed less apparent, but as they say, looks can be deceiving. I'd heard that the hatches and fish counts took a hit from that long hot dry spell, and found by the time I left that those rumors unfortunately appeared to hold true. Given the challenges and timeframe fisheries face in recovering from such cycles, I found the condition of the creek to be concerning.
That cool June day also started out quiet before afternoon storm clouds gathered, producing the days first and only activity. As I waited for the creek to come to life, harbored memories occupied my thoughts as I navigated the well worn path that sliced through the creeks tall grasses. Eventually I found a nice trout rising under an overhanging Alder. In the past I had found a trout or two feeding in this secluded lie. Like most good fish here it proved to be a challenging one. Although I never got that fish to eat, the encounter showed that Silver Creek still maintained its magic and an allure that drew me here in the first place.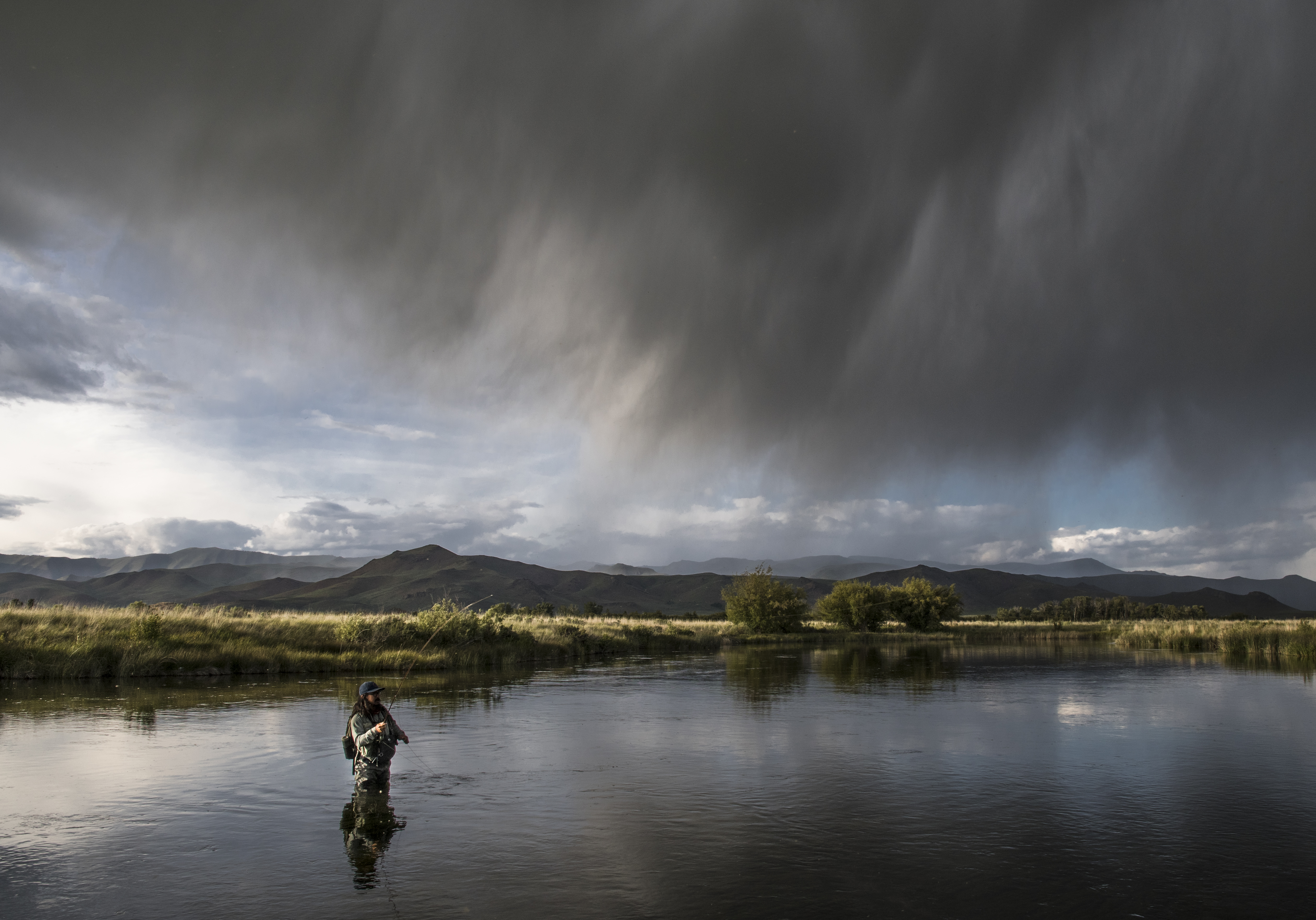 Over a decade passed before I had an opportunity to make a more extended visit to Silver Creek. The trip materialized when a good friend of mine, Mike, flew into town to fish Utah waters this past June. But with Utah rivers and streams still gorged from springs freshets, we serendipitously decided to head to Silver Creek; a place that neither of us had fished for some time, yet were drawn to revisit for a number of reasons. Hopefully, sticking one or several of it's nice trout rising to one of Silver Creek's renowned hatches being one of them.
That first morning we didn't see a single trout rise, or nary a bug. Just a lone moose that came down to join us. By late afternoon, a smattering of random PMD's did make an appearance, but by then the cold north wind was so strong that waves lapped the banks of the creek that were flat, exposed and wide. After an uneventful cold and windy, yet beautiful day we were hungry, tired and needed a cold one. As evening temperatures rapidly dropped Mike and I bailed early to lick our wounds and save some energy for hopefully more promising days ahead.
Reading further into my old June journal, I found that even on a day when the weather was unseasonably cool and windy, there were still plenty of bugs and fish rising. I came across a map I'd drawn with details of one productive piece of water. I remember checking out that particular bank this year a number of times, and didn't find a fish dining on the smattering of PMD's that were scattered on the water. I thought if I stared long enough though that a trout might materialize. (You know, one of those trout whisperer things). Eventually I moved on, my mute trout whisperings ineffective, with only rekindled memories of a familiar place and time that my journal reminded me of.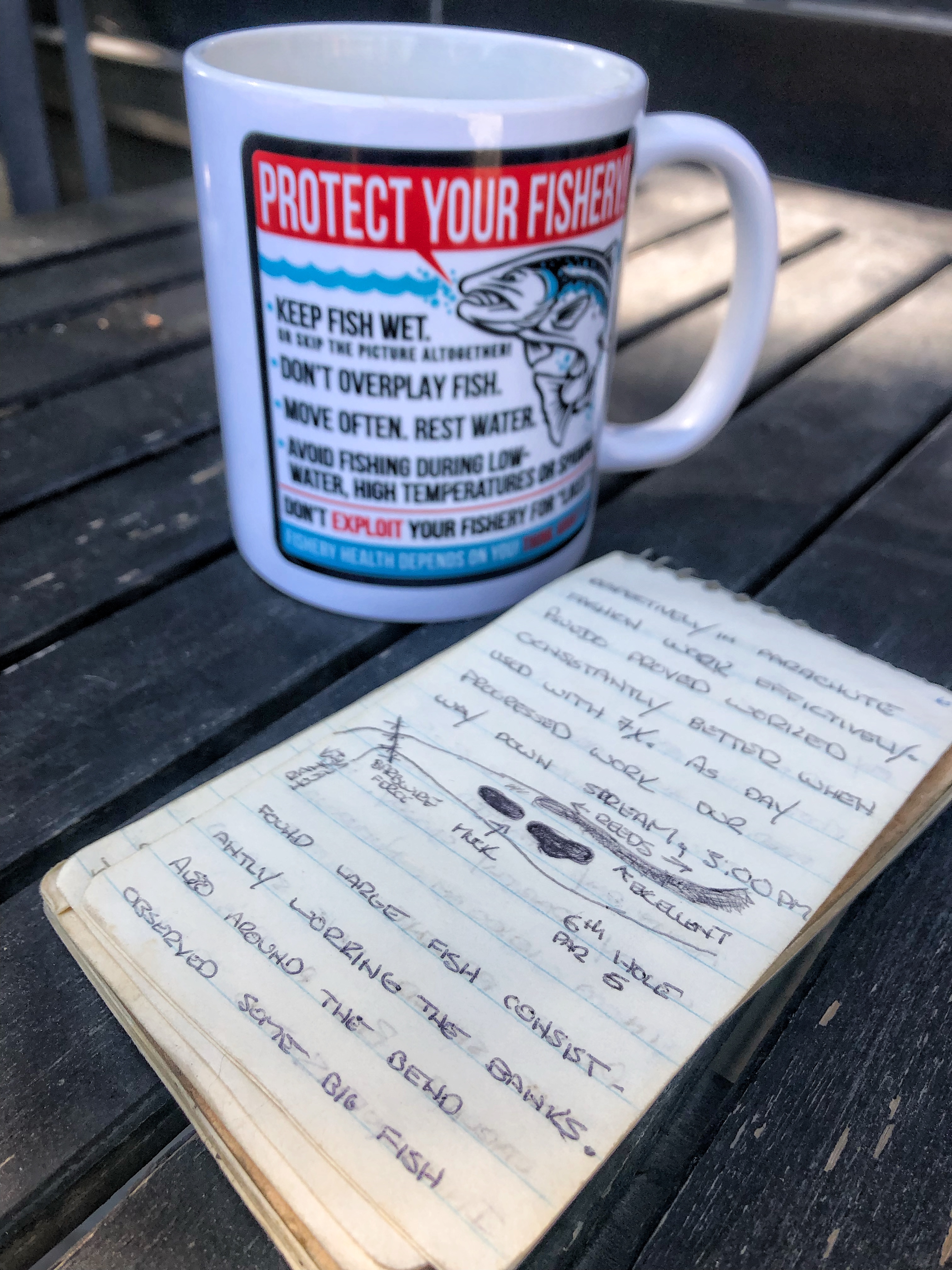 On the way from Hailey to Picabo, we passed fields of shimmering ice, yet eventually the day warmed enough that we could shed a few layers. We saw a better PMD hatch and a few more decent heads rising to the struggling insects. Mike found the first nice rainbow of the trip picking off the emerging mayflies. When he got it to take one of his offerings, I could tell by his posture and exasperated tone that the outcome didn't end as desired. That's not an unusual reaction or result here, where failures often exceed one's more memorable successes. Ironically this is one of many aspects of Silver Creek that draws many to fish these and similar waters.
I don't think I made a cast at all that second day after leaving Mike to work off his disappointment. Since I failed to find any worthy targets I decided to do a little research, hopefully for future successes. I spent much of that day simply stalking trout. In doing so I found the creek to have plenty of fish, yet It became evident that there were fewer decent sized fish compared to those days when I fished here on a weekly basis. I did manage to spot a couple significant brown trout; a species that hadn't begun to mingle with the Conservancy's spectacular rainbows until the late 80's and early 90's. These big browns have now become the face of Silver Creek. Its once legendary rainbows, as Ernest Schwiebert highlighted in his epic work Trout, "the fish on the flying trapeze", being relegated to somewhat of a second class citizen. It became obvious there were some changes in the creek that had occurred since cutting my teeth here. Good or bad, they didn't diminish our time here or in what Silver Creek had to offer.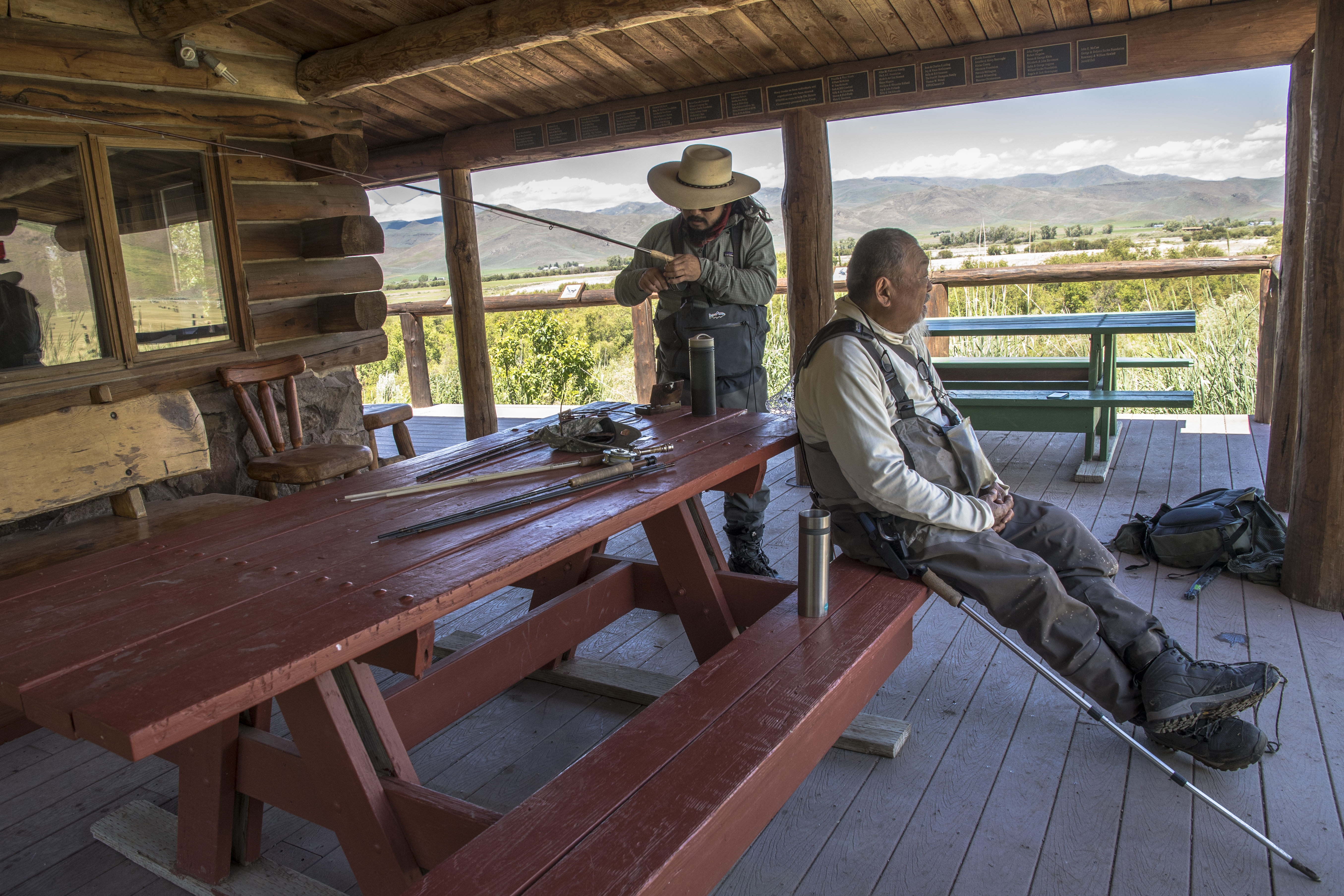 On Friday Kyle and Stu drove up from Salt Lake to join us. Mike and I were anxious to fish with them and to share this incredible fishery with good friends. They're also great sticks, both generous in their fishing, and always offer entertaining insights into waters they fish with some frequency. Kyle got that anticipated evening off to an appropriate start when he pulled out two bottles of great wine for dinner before proceeding to cook up some pulled pork tacos. Those treats along with the view couldn't have made for a more pleasant evening. It also set the tone for the rest of our adventure.
Our last few days, Silver Creek behaved more as it had in the 1980's: more consistent hatches with some good challenging targets to cast to. We even fed a few fish before it was all said and done. As the days warmed, gathering storm clouds anointed the picturesque valley, and highlighted another aspect of Silver Creek that makes this place worthy of a visit, regardless of the fishing. Before having to reluctantly reel in for a final time and head home the allure of this place began to creep back in. Although I've had better fishing here, the fun, failures, and successes we all enjoyed made me realize that I don't know that I have. After all it is called fishing, and there are a number of elements that lead to a successful outing, catching fish just being one of them.
Once back home, I dug further into my journals to check my premonitions on the state of Silver Creek. I was surprised by some of my findings, and realized there were more similarities than differences between the creek today, and when I first started fishing there forty years ago. Regardless of the fishing and the hatches, I realized it's still an incredible place to wet a line. Even more so if you're fortunate to find a willing fish or two to play the game.
In maturing as a fly angler I've come to understand the challenges and learning experiences gained from fishing on technical waters like Silver Creeks to be the essence of fly-fishing. I've also come to learn that fisheries ebb and flow, just as their waters, and you can't expect anything from them other than what they're willing to give at any point in time. It took a while to learn this, and at times I must still remind myself of this and as I left Silver Creek I had to remind myself of that. Hanging, and sharing these places with good friends only makes this journey that much more rewarding. I now regret my many years of absence on Silver Creek, and after this last tripI don't see much time elapsing before I fish here again.