Posted by Steve Schmidt on Mar 12th 2019
After finishing a second pass through one of the most inviting steelhead runs I've ever laid eyes upon, without a sniff, I headed up river to check on my partner. It had been slim pickings, but that was to be expected given the low steelhead returns this past fall. A mile upstream and around the corner I ran into Collin, who like me had yet to find any players. The river was incredibly low, so it wasn't hard to tell where they'd be hiding if they were there. After checking in, I took an extended stroll upstream to explore new water hoping to find a fish.
It was brutal walking. In general steelhead rivers are a tough slog. The rocky bank I navigated sloped considerably causing me to stumble with some frequency, jamming my boots and various body parts onto, or between the haplessly strewn boulder field depending on my success at staying upright. Almost three hours later I returned, battered, hot and tired from a grueling, uneventful walk.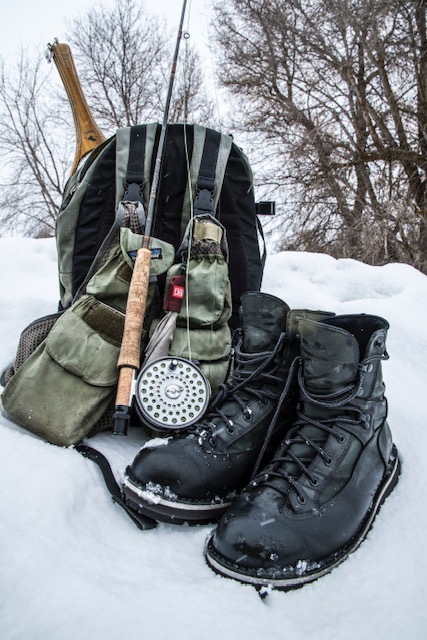 I had already put a summer of hard miles on a pair of test wading boots that Patagonia and Danner had been working on, before putting them through the paces on this particular day. It would be the most stringent test yet in these boots. I was impressed with how well they performed on this difficult day and how they had held up after a year in them, but also not surprised given my extensive experience with products from both of these reputable companies. Not only did the test Foot Tractors protect my feet from a pounding while providing adequate and needed ankle support, they have and continue to kept my feet comfortable through demanding days; a quality in a wading boot that I need given the miles I walk annually when casting a fly.
By the time I hung up my gear for the year, it was evident that these Foot Tractors had a lot of life left in them. Other than some minor wear on the soles, and fading of the outer fabric, they showed little sign of use. Given my time in Danner boots, including this pair that I've come to covet, they've more than met my expectations.
For years prior to Western Rivers opening, I fished in Danner boots. Similar to all Danner products the River Gripper, their first wading boot, could take a beating. I could always count on getting more than a couple of seasons from them and in those days I fished and walked a lot. At the time, River Grippers were the boot that all others were judged by. Today those old boots are still apart of the conversation, even though it's been years since Danner made them.
Several years ago when I heard that Patagonia was looking to partner with Danner to build their next generation of wading boots, given my long history and experience with both companies, that news got my attention. Shortly after learning of the venture I was invited to visit the Danner factory, to learn first hand about the project, the boots, and why Danner would be such a great partner for Patagonia in this project.
Before getting the factory tour, it became clear to me that these companies had shared values. It quickly became evident that they have taken their collective experiences to build a bold new product that will change the game once again when it comes to wading boots. Having personally put some time in these boots, it's obvious they're headed in the right direction.
At the factory it was apparent that this venture was a natural fit. The new Patagonia wading boots would be made in the USA, where Danner has been making reputable products since 1932 and they have an impeccable reputation for building quality durable footwear using the best sourced materials available, and like Patagonia they make stuff that lasts. These qualities and parallels alone were enough for Patagonia to partner with them, but Danner had another service that made the marriage even more appealing; their ability to re-craft wading boots after considerable wear, extending the life of the product and keeping them out of the landfill and on your feet for that much longer.
So what is re-crafting? It's the ability to have boots, as long as their foundation is in good condition, to be resoled and reconstructed after you've put many a hard mile on them. For some you'll be able to do this multiple times. The time frame where your boots are worn enough for re-crafting will be different for each of us. The number of days fished, your weight, how much you walk vs float, how you walk, all these factors will have the same varying impact on all wading boots, but unlike other wading boots you'll have the options of extending their life. As evidence to the value of this service, Danner re-crafted 37,000 pairs of their boots. I was blown away by the number of people who annually utilized and paid for this service.
Re-crafting also dovetails well with Patagonia and our environmental and product philosophy; offering quality sustainable products, that will add value to your fishing experience, while minimizing the environmental footprint. No pun intended.
These wading boots are also backed by Patagonia's Iron Clad warranty, which is one of the best in the outdoor industry.Although the marketing hints that these wading boots will be the last wading boots you'll ever own, that's not because you'll never wear them out. It because, like the old Danner's I once wore, you'll buy another pair when they're no longer serviceable, and you've put many a hard day on them. Like all wading boots, there will come a time, when you'll need new wading boots. I think, like myself, you'll choose to purchase another pair when that time comes.
For those familiar with the old Danner River Gripper wading boot and from my experience, they had some minor issues. Actually, more like an inconvenience than an issue. Most notable, they were quite hard to get on when they dried out, and until you got them wet they were very uncomfortable to wear. Users would commonly soak their boots to rectify this problem; a minor blip, but no less an aspect of the boot that could be annoying. To address this problem the new Patagonia boots have incorporated a leather product that Danner has used in military boots for years; an impregnated water resistant leather. After a full season in the new Foot Tractors, it's obvious that this modification is definitely an improvement, in durability and eliminating the need to soak the boots before heading out the door.
Another issue with the old 8" River Gripper for some anglers, especially those who were older, was they could be difficult to get on, even when the boots were pliable. They've also addressed this issue, not only by improving the leather fabrication, but also in the design of boot and the effortless lacing system they've incorporated. The Foot Tractor and River Salt boots are much easier to get in and out of, and once on they snugly lace up with a single upward pull of the laces. These qualities add stability to the new Foot Tractor and River Salt wading boots and to their overall comfort.
All three models of the new Patagonia wading boots: Foot Tractor Stickey, Foot Tractor Bar and River Salt are very similar to a finely crafted premium fly rod. If you've never seen a US fly rod or a pair of boots constructed, it's impressive and quite obvious why they cost as much as they do. Actually, after many factory tours, I'm amazed that the fly rods I'm referring to, and well made boots like the ones Danner makes don't cost more. Danner's, like many of your most coveted fly rods, are painstakingly made by hand, to the highest standards, in the USA from the most durable and time tested materials that are available today, by a boot company that's been around for almost a millennia. And, yes these new boots are expensive, but so is anything that is well made, that is designed to stand the test of time and I think these boots are going to do just that.