Posted by Western Rivers Staff on Sep 17th 2019
When I first met Bud Murray nearly 30 years ago I just knew him as Bud the ex-coach who had a reputation as an all around good angler. That was back in the early 80's when I was doing time at Anglers Inn. With a name like Bud, how could you not take the guy seriously. As he was then, he was at Western Rivers Fly Fisher, a colorful character who was well respected and most always had a nice easy going demeanor and somewhat sinister smirk on his face. Occasional he is still referred to as coach, but he's acquired a few more titles since I first met him, and those seem to fit his character just as well.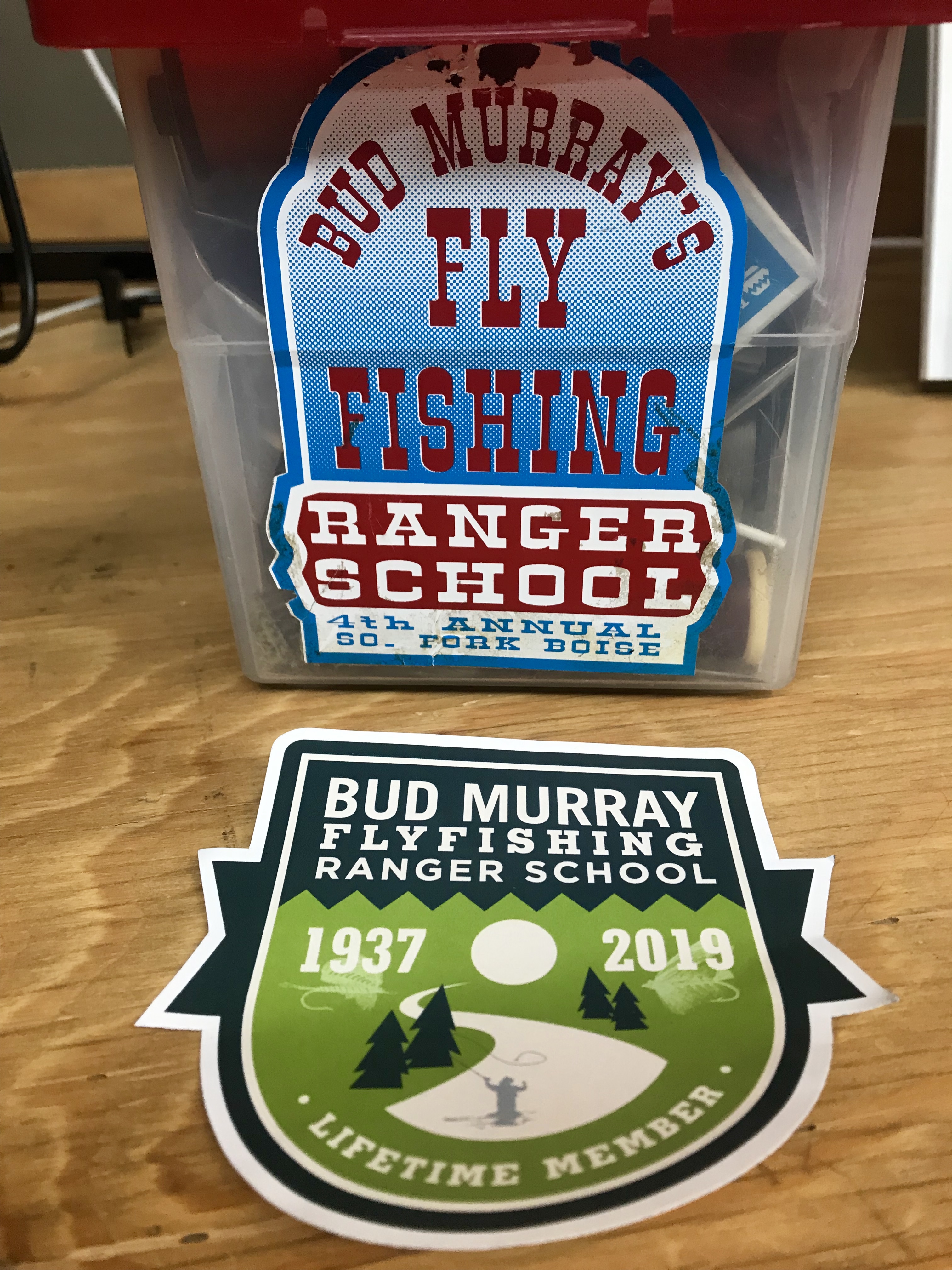 Since meeting him at Anglers Inn he'd become a part of the fabric and rich history of Western Rivers and a founding member of the morning Coffee Crew. This group gathers daily for java at the shop to solve the world's problems, plan their next fishing trip, talk about the weather or what a mess the world is, all before heading off to fish or make their next doctor's appointment or to knock an item off from their seemingly never ending "Honey Dew" lists. Life should be that casual for us all and the Coffee Crew does a good job of making it seem so. Given their collective age, especially the core of this group, they've earned that.
Over the years Bud's been a guide for Western Rivers, self appointed Head Ranger, mentor, freelance employee, and jack of all trades when we've needed someone with such talents. If you own a fly shop people with jack-of-all-trade qualities are essential to one's survival and Bud has filled that role more than adequately.If you're a customer or have visited the shop you may have noticed the bulletin board in the tying room that's still covered in photographs. That is Bud's doing. So is the one up front when you first walk into the store. The table in the tying room that was resurrected from the Paris clothing store is also a hallmark of Bud's handiwork. His chainsaw and Head Ranger skills came in handy a time or two as well, whenever he was camping on one of his favorite rivers. Lately, his most noteworthy contribution to the shop is his famous Bloody Mary mix that's annually served up Christmas Eve morning at Western Rivers. If you've joined us for this festive occasion you know first hand how tasty they are. If you are shopping and need a gift wrapped for the holiday that particular morning, you may witness how potent they can be as well.
As a guide for Western Rivers he became one of the more prominent figures at the LC Ranch; a stillwater fishery that remains quite unique in Utah. He was one of a number of characters who would spend the bulk of their summer days bobbing around in a float tube helping guests get the most out of this prolific fishery. Typical of the way he fished, he always had some special fly or brought another aspect to the Ranch which set him apart. He was a consummate professional and always looking for an edge whether it was to enhance his clients experience or his own when he fished.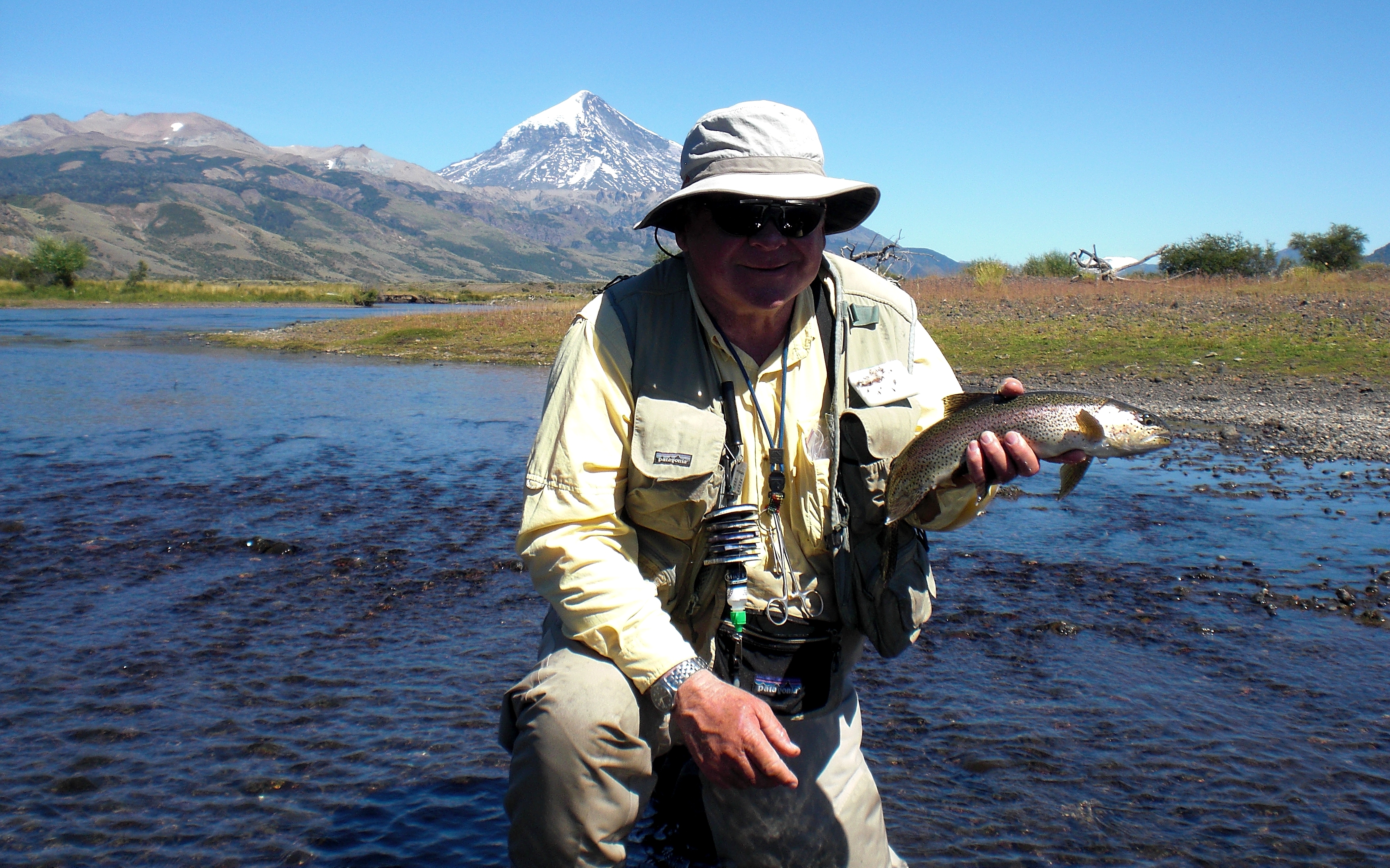 It's been a few years now since he's put his guiding cap on. After a while, like all of us, he'd had enough and simply wanted his time on the water to be his own, yet he was more than happy to give you one of his latest flies he'd tied up or to clue you in on what is fishing hot if you crossed paths with him at the shop. That is of course, after he was done getting his fill.
You could always tell when Bud was sneaking off to take advantage of one of his favorite fisheries. His chair amongst the Coffee Crew would sit empty for a few days. By the time he showed up again, he'd rarely divulge his exploits, just smirk the way he so often did when you asked him how the fishing was. Only the Rangers and a few others in his inner circle would get an extended report. You had to earn that.
One of my more memorable moments of Bud occurred one fine crisp morning at the boat ramp to section A on the Green River. I knew Bud pretty well at this point, but rumors were all I knew of his "coach mode", especially when under duress. On this particular beautiful morning I got to see a side of Bud that I'd only been aware of through some of his athletes he coached who over the years have shared their fondness and memories of Coach Murray when dropping into the shop to say hello.
It wasn't too uncommon to see Bud's beautiful wooden dory backing down the Green River boat ramp during the summer shortly after I opened the shop. As I've mentioned Bud had a knack for being on the water when a fishery is fishing well. He's good at being at the right place at the right time. Fishy guys have that about them and Bud was a fishy guy.Back in the late 80's and early 90's the Green River was simply a stupid fishery, especially when the Cicadas were out. On this particular morning he'd already launched his boat, tied it up just a short distance from mine, and was preparing to move his vehicle when things got a little ugly. As he headed to his car some young dude dressed to the nine's was preparing to launch his boat. While his buddy backed the trailer into the drink, Mr. GQ sat prepped in the dories rowing seat, oars in hand, poised and ready to maneuver the boat once it was free from the trailer. Bud watched this dude pull off this fancy maneuver, along with the rest of us. As the trailer and boat entered the water the driver hit the breaks sending the boat careening downriver. The boat came to rest after it slammed into Bud's dory it's anchor punching a hole in the bow of his beautiful wooden boat.If I and the others would have known what was about to unfold, we would have paid for tickets to the show. Bud got in this guys grill and the fireworks began to fly. By the time he got done dressing this young buck down there wasn't anything left for him to do, but tuck his tail between his legs, say he was sorry, and find someplace to hide. As he walked off you could have heard a pin drop. We still talk about that moment and get a good chuckle upon reliving the event.
Not long after he retired and started hanging with the Coffee Crew they started pounding the South Fork of the Snake. Mostly Bill Young, Lynn Calder and Bud, but on occasion my partner Dave Lattimore and Dan "Chico Malo" Eliason would tag along. There's another story to be told regarding Chico Malo, but we'll get to that down the road in another Throwback.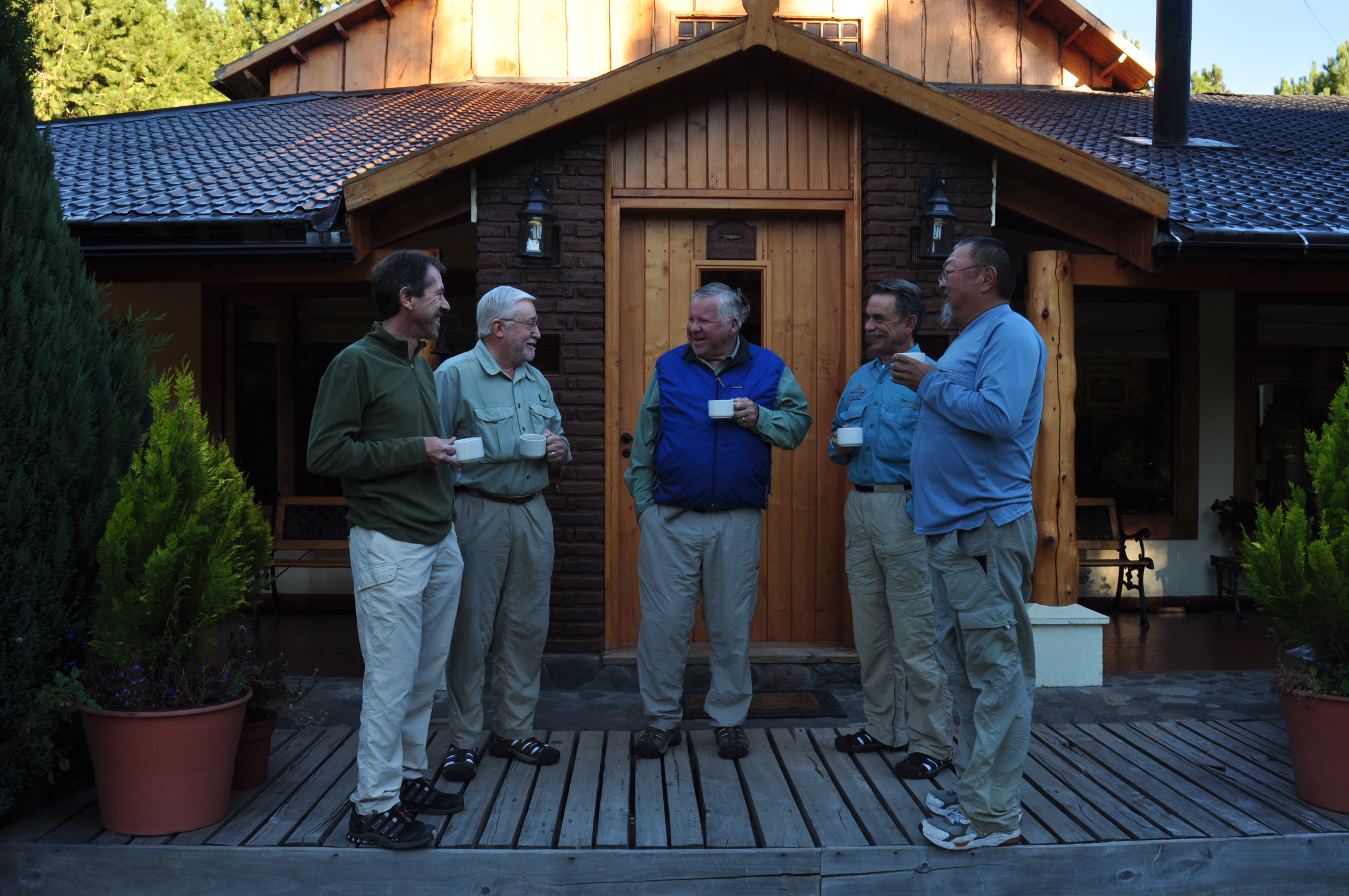 Bud, Lynn and Bill were a notorious crew. They became infamously known as the Rangers after a noteworthy evening while camping on the South Fork with Chico and Dave. To the best of Bud's recollection Lynn Calder was the instigator. Nothing new here. After dinner they saddled up to the cozy fire Lynn unscrewed the cap from a bottle of Jägermeister and threw it away. Later that night some crawled to their tents, others didn't fare as well. With that, the Rangers were born. Bud emerged as the head of this notorious rag tag group and for the shop staff and rivers of the west the newly formed Rangers were a force to be reckoned with. Over their active years that never changed.
The softer side of Bud shined when he acquired yet another title, "The Talent". In most instances Bud earned his titles, but this one was joyously self-anointed. Blue Cross & Blue Shield had hired an ad agency and they were looking for a 'grandfatherly figure' and a young boy to shoot a commercial on the Green River. My son and Bud became "The Talent" for that photo shoot as Bud liked to profess. After "The Talent" received his check for the engagement he thought about becoming a professional model, since it paid far better than guiding. We told him, it never hurts to dream, but as the Head Ranger he was reminded that his skill set served him better as a guide than it did as a pretty face in front of a camera lens.
Finally another moniker Bud proudly answers to, when discussions around the shop go to reminiscing about South America, is Gaucho Bob. Bud, Stu Asahina, and Bill Young, all seasoned Coffee Crew members asked me to organize a trip to Argentina. Many of them felt this would be their last big adventure. I probably would have never ventured to Argentina if it hadn't been for them. Now 10 years later, this has become an annual shop trip that I host and I'm very grateful they gave me the nudge and made this happen.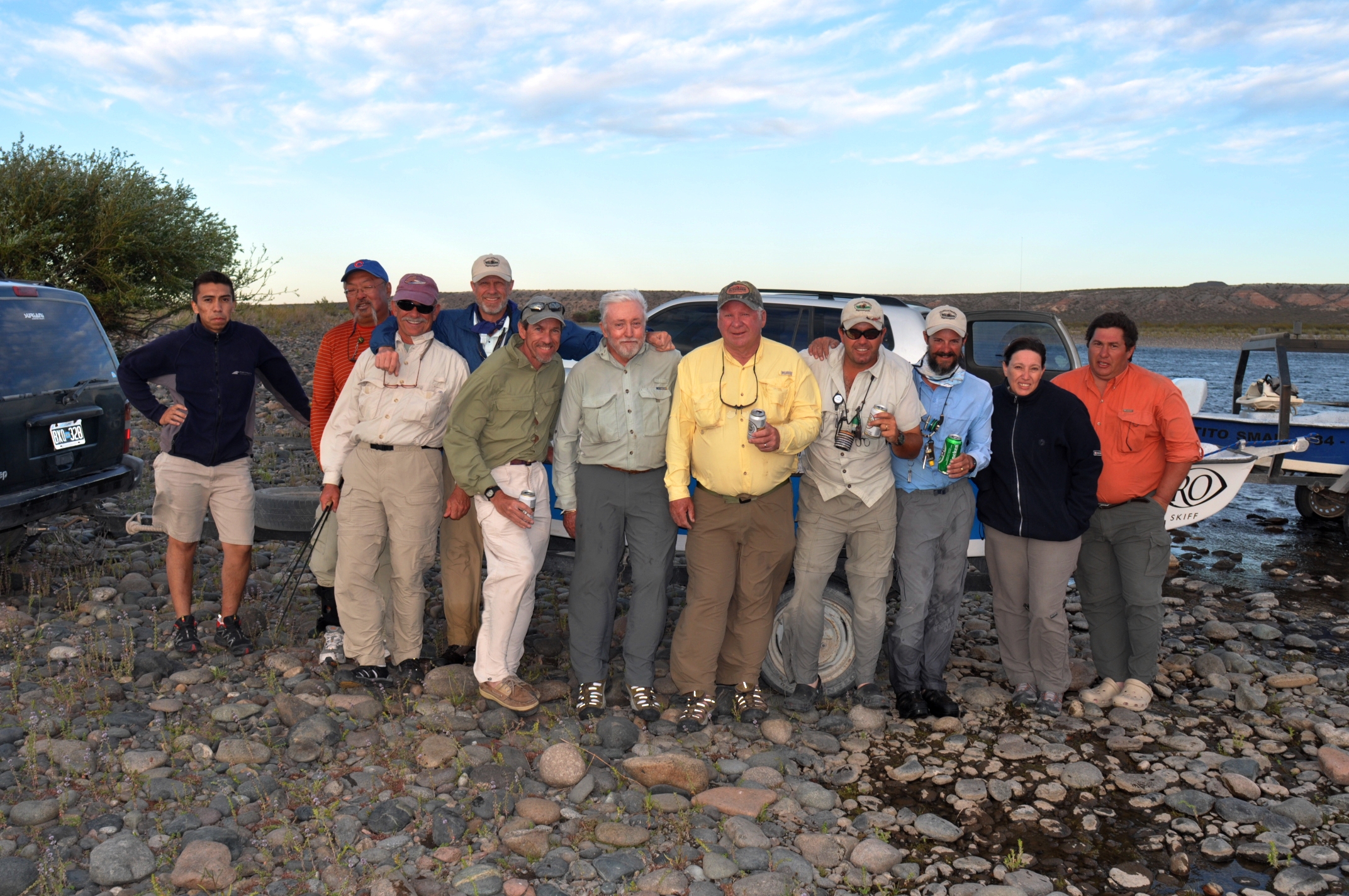 On the morning we arrived in Argentina, and the capital city of Buenos Aires we were leaving the plane we realized that Bud was suffering from a mild overdose of Ambien and could use a little help exiting the plane. He had taken one too many on the long flight and hadn't quite come out of it by the time we landed. Now it should be noted, Bud's not a small guy. After helping him off the plane and then through the long customs line he was sent off on his own, shuffling to confront the customs officer. He sauntered up to the kiosk with a sloppy version of that smirk on his face and had to lean against the booth to hold himself up. A few of us went ahead of him in case he needed assistance on the other side, that was if they let him into the country in the first place. We have no idea how he pulled it off and we were all too busy laughing to do anything about it, had he been rejected. He recovered just fine and enjoyed, along with the rest of us an incredible fly-fishing experience, one we will never forget. Somewhere in the middle of the week our Argentine guides had fondly given him the name "Gaucho Bob". It seemed to suit him well, although I don't think it had anything to do with his ability to ride a horse, which had he, it would have probably earned him another name. After a decade now, his name still fondly comes up when we return to Argentina. Having known him for as long as I have there is good reason for that
Bud was a character, and his numerous titles lend credence to that. But above all, he was a good friend and one who helped make the fly shop what it is today. If you are a frequent customer, especially in the morning, he may have even waited on you. If so you were fortunate. He was always there to lend a helping hand and there's nothing he liked better than sharing what he's learned about fishing with customers in the shop, and with those he encountered while out doing what he so enjoyed.