Posted by Steve Schmidt on Dec 27th 2018
I would like to tell you a couple stories in this blog post. One, is a very memorable and reflective fishing session that highlighted for me where I am in my fishing life and the other is the larger, bigger, and perhaps less idyllic story of Utah and the state of her waters. Both ask us to consider the resources we use, fish, and to again reflect on how fortunate we are.
The Story:
Through a brief sun filled window among a gathering fall storm, a flash of yellow caught my eye. I watched for the rise again, and saw a fat brown gently roll to take an emerging Blue Wing that had drifted into its window. Despite the presence of other rising trout further up the run this particular fish garnered my attention, due to an impressive push of water, and the showing of its plump butter yellow sides exposed by the warming rays of the sun.
After watching its rising pattern for a time, I decided to move slowly into casting position. I began by taking a few steps into the river before working out a sufficient length of line to cover the fish. My fly, the "Turkey Baetis" landed just ahead of where the fish was holding. Like this opportunistic trout, I waited in anticipation as the fly drifted into its window. With the hatch occurring in front of me and a decent fish to cast to, I was thrilled to be in the situation I was hoping for as I headed to the river on this particular overcast day. As I sized up this fish I felt fortunate to be playing the game one last time before my fishing year most likely would come to an end.
I caught that fish and for many reasons it would be my last before the New Year. Older now, I seem to remember these fish more than I use to. Looking back I wish I could recall them all, but my frivolous youth prevented me from recognizing such noteworthy moments.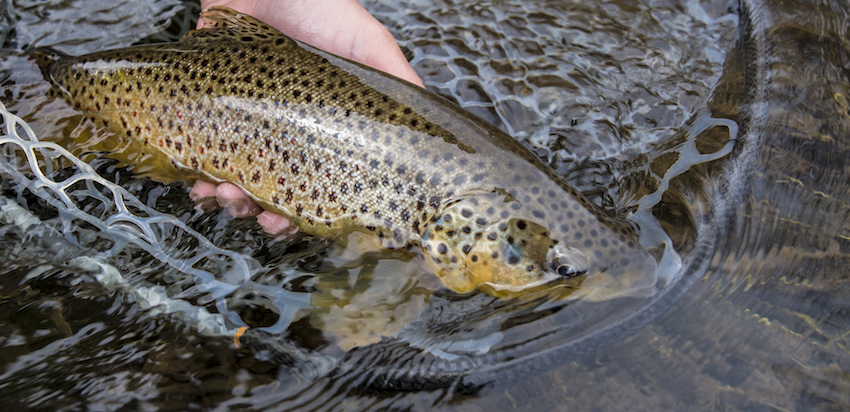 After releasing that beautiful trout I took a seat amongst the dying grasses to enjoy the view. This view extended into my past, into my future and into the state of Utah's waters. Those fish that initially caught my attention continued to rise, yet I just sat and watched fully content with catching my single fish. I could have easily caught several more, but didn't need to. After the year of natural disasters, and hot weather we endured here in Utah I was grateful for this idyllic November experience. I have felt a need to be more present in my fishing, and have begun to challenge myself with the objective of becoming more mindful, and of having less of an impact on our fragile cold water fisheries. In doing so I've found my outings more meaningful and rewarding.
---
A Year in Review:
2018 started out like most years, a mild and relatively dry start to winter, which percipitated a fairly prolific midge hatch. Once February arrived we found trout rising to emerging winter midges during the most pleasant part of the day. At the shop this caused a buzz with the arrival of these small diptera. This hatch also motivates those who don't mind braving the elements and who love to cast tiny flies on gossamer tippets. There is nothing like the sight of fish rising in the dead of winter to steal the chill from your bones.
As midge hatches tapered off in March and April the Blue Winged Olive hatch began to circulate in our local waters. This annual mayfly hatch typically awakens anglers from the deepest hibernation, and this year's BWO hatch was worth waking up to. With as warm as the springs have been these last few years, the years first mayfly hatches arrive earlier than usual, yet remain consistently good till springs freshets arrive.
As Blue Wings subsided Nick Teynor and I did our annual seine samples on the Middle Provo River over several late weeks in May. We view it as the annual physical- if you will of our river. Our extensive efforts netted only a handful of Green Drake nymphs, a major player in our local waters ecosystem, when normally we easily net more than we could count. Given that this prolific hatch is one of the states more anticipated hatches, our findings were concerning. As June came to an end and July rolled around folks began to ask us here in the shop what happened to these bugs. We could only speculate, as could everyone else that fishes the Middle Prove. Although PMD's and a variety of Golden Stoneflies and caddis provided excellent fishing, they didn't alleviate the disappointment from those who anxiously await this iconic Middle Provo River hatch.
As summer settled in a persistent heat engulfed our Utah landscape. With that some of our fisheries began to suffer low flows and warm water temperatures that threatened the overall health of some of them. As the dog-day conditions dragged on the overall state of our rivers and streams became concerning. High temperatures depletes a rivers supply of oxygen and when caught under these conditions a trout rarely recovers from the exertion that fighting a fly requires. Looking back it wasn't until September before our waters began to experience some reprieve, and it was safe again to fish through an afternoons. In the shop folks may have been tired of hearing, "the Middle Provo" as our answer of where to fish, but considering the elements this was still the best and most sustainable place to fish to keep our waters healthy and fish-able in the future.
By July, fires began to spring up across northern Utah, none more devastating than the Dollar Ridge fire that destroyed the Strawberry Pinnacles as we knew it. This little gem of a fishery was one, if not my favorite in Utah. Not only did I enjoy the fishing, and the rivers prolific hatches, but its unique topography and divers wildlife set it apart from many waters that I fish. After 40 years I considered it among those fisheries I covet as: "Home Waters". It will be a while before any of us fish this section of the Strawberry River again. Hopefully in my life time I'll get another chance, but it's going to take some time for it to heal, something I'm running out of.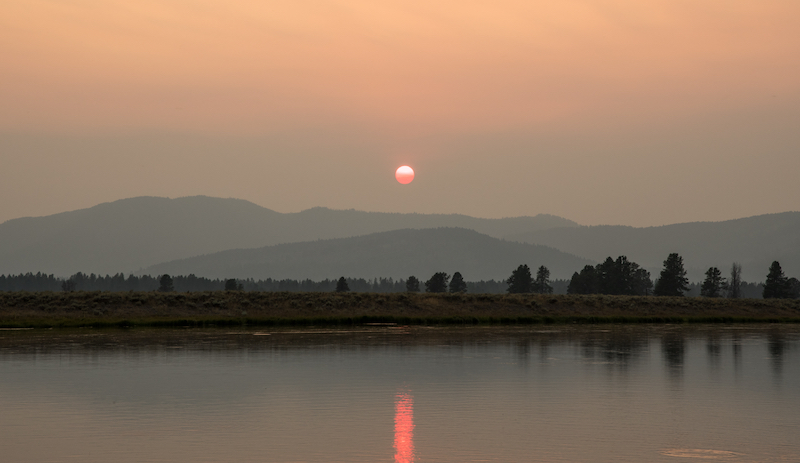 In August some of our fisheries were struggling to be life sustaining. The high water temps, and depleted stream flows continued to make it very difficult for the fish, and in the shop we encouraged folks to stick to our tailwaters around the state rather than fish a number of our free flowing small streams. Fortunately the fishing on the Green and Provo Rivers held up due to good stream flows, which became more and more of a luxury as the year continued. Depending on how this winter shapes up, we may again have to ponder the affect of water temperatures and low stream flows on trout in the heat of summer and adapt our fishing practices accordingly.
The Elk Ridge fire also ripped through our state in August. It wreaked havoc on Thistle Creek, before jumping US highway 6 and singeing the lower sections of Diamond Fork. Fortunately it didn't go much further, otherwise it's impact could have been much worse and compounded the looses we'd already incurred. For many of us at the shop, especially the Coffee Crews patriarchs, this fire was another disturbing event in a troubling year. Thistle Creek was something special. Bud Murray and Bill Young in particular would slip away every year and fish the creeks Green Drake hatch, not tipping their whereabouts off to anyone in doing so. Their empty coffee crew chairs in June was a quiet clue that Thistle Creek was going off. For these gentleman, it will be unlikely the stream will recover in time for them to fish it again.
September brought some normalcy back to our fishing as temperatures cooled and fall hatches kicked in. By October Blue Winged Olives began to show along with fall's cornucopia of color. This prolific bi-annual hatch fished well through November. As troubling as the summer was, both the spring and the fall were more typical of the fishing and conditions we have here in Utah. For a moment, these shoulder seasons made us forget about the challenges our fisheries have faced when the west warms up. As dismal and concerning as I may have made the year sound, we did enjoy some great fishing, especially on the Provo and Green River.
Although the Green Drakes on the Middle Provo River were disappointing and concerning, they along with PMD's, stoneflies, caddis and a variety of terrestrials created consistent fly-fishing opportunities on our rivers and streams regardless of how you like to fish. Other parts of the west also enjoyed excellent stream conditions. Since we're in such close proximity to many of the wests more noted fisheries many of us in the shop, when time permitted, hit the road to play the game on waters outside the state. That's one of the many aspects of Utah we enjoy and take advantage of; the fact that we not only have great fly-fishing from our back door, and the short drive we have to a plethora of other western fisheries just across the border.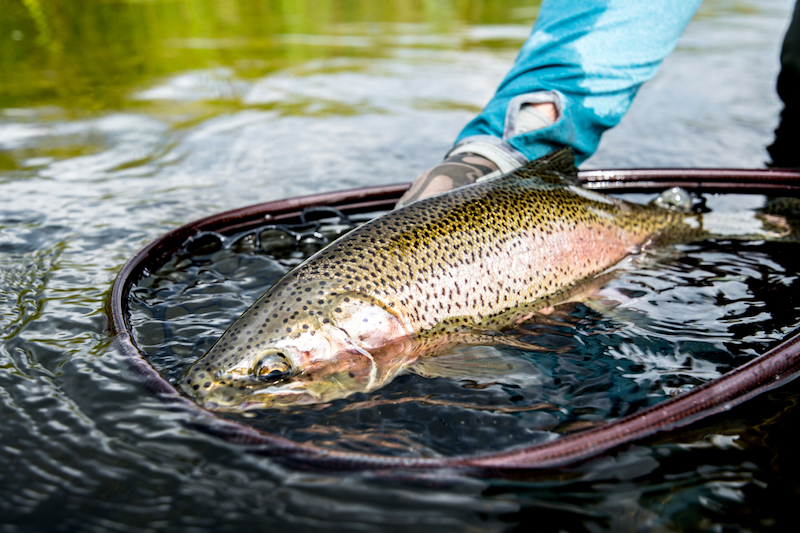 It pains me to see what the fires did to several of our states more precious resources, but it didn't deter me or the crew at Western Rivers from getting our share of fish fixes. We may have traveled more than usual, explored new waters, or caught a few less fish on our outings, but the year was no less enjoyable or rewarding as a result of our considerations and efforts. In fact, looking back we expanded our landscape and discovered that the process of finding new opportunities or the catching but a single fish, a particular fish, is as rewarding as catching more than we should have.
Looking forward to the New Year, we're excited for what lies ahead: to fish old haunts, and to expand our horizons.We look forward to sharing what we continue to learn from: "Playing the Game" in our ever changing natural world and helping you get the most from your time on the water. It's what makes fishing with flies for us all so rewarding and an endeavor to enjoy for a lifetime.As challenging as 2018 was, we're hoping that Mother Nature is more kind to us in the upcoming year.If not, we'll hopefully continue to be of service, offer insights in stewardship for those who are interested and continue to grow more responsibly to ensure the future of the waters we fish for all to enjoy.We appreciate the opportunity to play The Game and don't take for granted the fish that are vital to what we love. Thank you all for joining us, for taking the time to consider your fishing practices and for letting us be apart of your time on the water.
-Steve