Posted by by Steve Schmidt on May 31st 2022
Over thirty years ago I called Tom Morgan, at the time owner of RL Winston Rod Company and one of the most respected rod designers in all of fly-fishing. Having fished a Winston rod since the late 70's, I had somewhat of a personal connection to this company. That rod, which I fondly refer to as 'Billy", was the first premium fly rod I owned. After all these years it's still one of my favorite rods that can be found traveling with me as I fish throughout the west.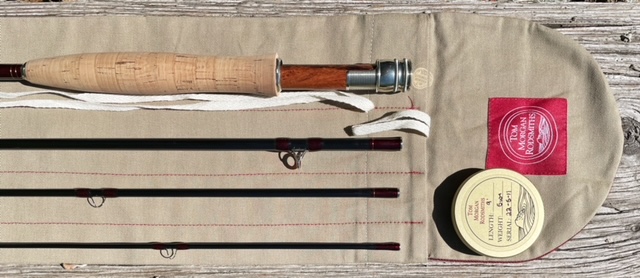 Naturally, in 1986 as I started to assemble Western River's I reached out to Winston, Tom in particular, hoping to become a dealer. Unlike today, where deep pockets buy you just about any brand, you had to prove your retail merit before premium brands like Winston would partner with you; consequently I had to wait several years before receiving Tom's blessing. However, all was not lost and through the process Tom and I became acquainted.
When I started the shop Winston rods were and still are regarded as one of the finest fly rods available. Under his tutelage Winston became one of the more respected rod brands in fly-fishing. Unfortunately, not long after we received Tom's blessing he left Winston to further his quest to make an uncompromising line of fly rods irrespective of price or trends for knowledgeable and appreciative anglers, however that didn't mean we lost touch with each other.
For those who never met Tom, he was very pleasant and gracious. He also had a respected reputation as a talented rod designer; someone with integrity, refined skills, and beliefs that stay true to their vision when it comes to building hand crafted fly rods. Tom was driven to build rods that were progressively smooth, effortless to cast and in hand simply beautiful and a pleasure to fish. Tom's influence and skill at Winston led to many a great fly rod; rods that are cherished and fished by their owners as "Billy" is with me for a lifetime.
Soon after departing Winston, he and his wife Geri started Tom Morgan Rodsmiths (TMR) to further his pursuit of that perfect fly rod, without the constraints a company like Winston presented. As other companies designed fly rods that excelled in power and quickness, Tom held true to his core beliefs and continued to craft sensitive, smooth, and meticulously crafted progressive fly rods; rods that he felt were in harmony with the user, could be described as even graceful, and left you simply searching for an excuse to put one in your hand.
Like Tom, here at Western Rivers we're infatuated with casting and fishing well designed fly rods. We feel they are the foundation of what makes the game of fishing with flies so rewarding and a lifelong endeavor. Although there are many good ones built today, we are selective when it comes to the brands that we carry and rarely have we added a new line to our offerings. On those rare occasions when we do, you'll find they compliment what we already carry. With that in mind, I reached out to Tom Morgan Rodsmiths and their small speciality rod company. That call was a long shot, but if there was a rod line that fit our philosophies, and complimented our existing inventory given our history and fishing preferences it would be a Tom Morgan designed line of rods. Surprisingly, they agreed to work with us.
Our first opportunity to string a number of TMR graphite rods together and cast them made us quickly realize that these rods were different, and not for everyone. From the first stroke we couldn't help but notice their flawless flex. They were butter smooth. With each successive cast they only became more familiar. From tip to butt a TMR rod defines what a progressive fly rod should feel and cast like, which in this day an age when it comes to graphite rods is somewhat of a rarity. It would be an understatement to say we were impressed. "Wow" would be a better expression for our collective sentiment. "Wow".
Now that we have several of their rods in stoc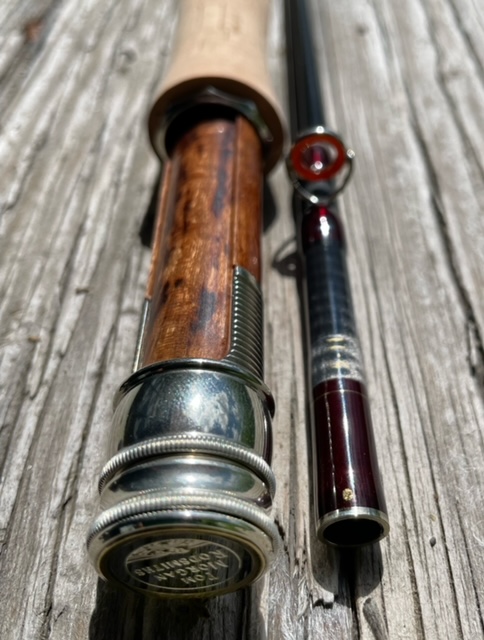 k, at first glance TMR rods are somewhat unassuming on our rack. They more or less blend in with any of the other premium fly rods we carry. Then upon closer inspection you discover some of the details that make these rods stand out: red agate stripping guide, nickel silver appointments, impeccable wraps, individually assembled and sanded cork grips, hand turned reel seats, and flawless finish, yet it isn't until you put one of these rods in your hand that you truly come to appreciate their beauty.
Recently Joel Doub and Matt Barber took over the reins from Tom and his wife Geri. Since doing so, with sadness Tom passed away leaving an incredible legacy and a significant loss for those who knew him. Joel and Matt now admirably carry on his work and have not wavered from Tom's vision, passion or pursuit. As quoted from their mission statement, "A Tom Morgan Rodsmiths rod is not made for everyone - it is made for you - by people who know your name. Experienced anglers, who expect grace and harmony when a rod is cast, and know our standard of craftsmanship is an investment in excellence".
At the moment we're only carrying a limited number of their beautiful graphite rods. They've never had the intention of mass producing their product and similar to the rest of the world we must wait for their rods also. Over time, we hope to have a more comprehensive inventory. In the interim, if we don't have what you're looking for we can order a custom rod made to your specifications. Although for the time being we are just stocking their graphite rods, they also build rods in glass and bamboo. There is no additional charge for a custom rod. Tom felt that you should be able to build a fly rod to an individual's preference and not add to the cost of doing so regardless of the configuration.
We haven't been this excited about a new product line at the shop for some time. These rods have redefined what we think one should feel like. Given our propensity to chase hatches, cast to trout that are rising, fishing leaders that are far and fine, I know we'll be adding some of these incredible rods to our own personal quivers. After you put one of these rods in your hand you may as well. They are that special.
Shop: In Stock -Tom Morgan Rodsmiths